The Adventures of Captain Horatio Hornblower
Here we bring you The Adventures of Horatio Hornblower,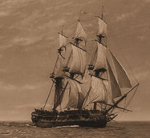 which was a 30 minute historical action/adventure series that aired in 1952-1953 starring Michael Redgrave as Horatio Hornblower. It traces the adventures of Horatio Hornblower as a fictional Captain in the British Royal Navy during the time of Napoleon. It was based on the series of Hornblower novels by C. S. Forester and was later the subject of films and television programs.
Ernest Hemingway is quoted as saying, "I recommend Forester to everyone literate I know."
The name "Horatio" was inspired by the character in William Shakespeare's Hamlet and chosen also because of its association with contemporary figures such as Horatio Nelson.
At the same time, Forester wrote the body of the works carefully to avoid entanglements with real world history, so Hornblower is always off on another mission when a great naval victory occurs during the Napoleonic Wars; concurrently, whatever he has Hornblower dealing with is usually important too, if less heralded.
The Hornblower radio series was produced by Harry Towers and his Towers of London syndicate and was not broadcast over the BBC, although it was transcribed in England for the BBC. The BBC was not interested in doing the Hornblower series and it was aired in the U.S. on CBS, then again on ABC in 1954 and Mutual in 1957. Gregory Peck and Virginia Mayo recreated their roles on a one-hour Lux Radio Theater program broadcast on January 21, 1952.
Now let's hear The Adventures of Horatio Hornblower !

Just click on a link to listen!
The Adventures of Horatio Hornblower
To listen online, just click on the link of the show you want to hear and it will open in the proper media player on your computer for standard.mp3 files. You can also right-click on the link and choose "Save As," then upload the file to your mobile device for listening later. No special software is needed so you can listen to these old time radio shows online for FREE!